Invited Talk
Title: Knowledge Graphs and Natural Language Processing: a symbiosis
Abstract
In this talk, we explore the symbiotic relationship between knowledge graphs (KGs) and natural language processing (NLP). We start by investigating in how far information extraction as an important task in the field of NLP can profit from the knowledge encoded in knowledge graphs, DBpedia in particular. We then introduce the important concept of scientific knowledge graphs, referring to knowledge graphs that capture the body of knowledge of a certain scientific discipline. We argue why such scientific knowledge graphs will increasingly play a role in the near future. We show in particular how NLP techniques can be used to populate scientific knowledge graphs, in particular in the domain of medicine. We present results of the PSINK project, the goal of which is to automatically construct a large knowledge graph comprising of all the pre-clinical study results in the domain of spinal cord injuries. We close by showing some powerful applications that can be built on top of scientific knowledge graphs.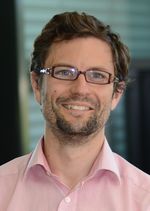 Philipp Cimiano is the head of the Semantic Computing Group at Bielefeld University. He is also affiliated with the Cognitive Interaction Technology Excellence Cluster (CITEC). Before joining the Bielefeld University, he was an assistant professor at Delft University of Technology (2008-2009) and a postdoctoral researcher at the Institute AIFB of Karlsruhe University (TH). Philipp Cimiano is mainly interested in topics at the intersection between knowledge representation and text processing including: text mining, computational semantics, information retrieval, question answering, ontology learning, ontology localization, etc. He is editorial board member of the Semantic Web Journal.
Schedule
Wednesday November 25th – 10:30-12:30 CET
Link to the meeting (WebEx)
The password will be sent on Slack
10:30-11:00 Welcome to NL4AI 2020
11:00-12:00 Invited Talk: Philipp Cimiano [Slides (PDF)]
12:00-12:30 Discussion
---
Thursday November 26th – 14:00-16:00 CET
Link to the meeting (WebEx)
The password will be sent on Slack
14:00-15:00 Question time with the authors
15:00-16:00 Discussion panel: Natural Language Processing and Explainablillty of AI systems: an interwined story. Panelists: Serena Villata, Cataldo Musto, Danilo Croce.
---
Friday November 27th – 9:00-10:00 CET
9:00-9:50 Question time with the authors
9:50-10:00 Goodbye
---